We came spinning out of nothingness, scattering stars…
the stars form a circle, and in the center we dance. 
-Rumi, 13th Century

Begin with Fire Safety Level 1
Fire Safety Level 1 is a lecture based virtual program that establishes a solid foundation to grow from. Fire Safety training is a pre requisite for fire dance. This program will prepare you to join a fire dance community. Level one introduces the basics of fire safety from rules to fuels, fire extinguishers, and first aid.

Blazing Hearts
A teacher and student performance

Student fire dance performances present opportunities to develop confidence, learn in the flow, in real life situations, in front of real audiences. There is no better practice than real life experience.

Coming Soon
Sacred Fire Dance is currently in the process of creating a virtual learning experience that will take a student from complete beginner all the way to performer. If you are local in Sacramento, then this course will allow you to join fire dance classes here locally. If you are not local, this will give you what you need to get you started and ready to connect in with a community in your area. In the meantime, the first step is Fire Safety Level 1, which is live and ready to go. Stay tuned to be guided along the journey.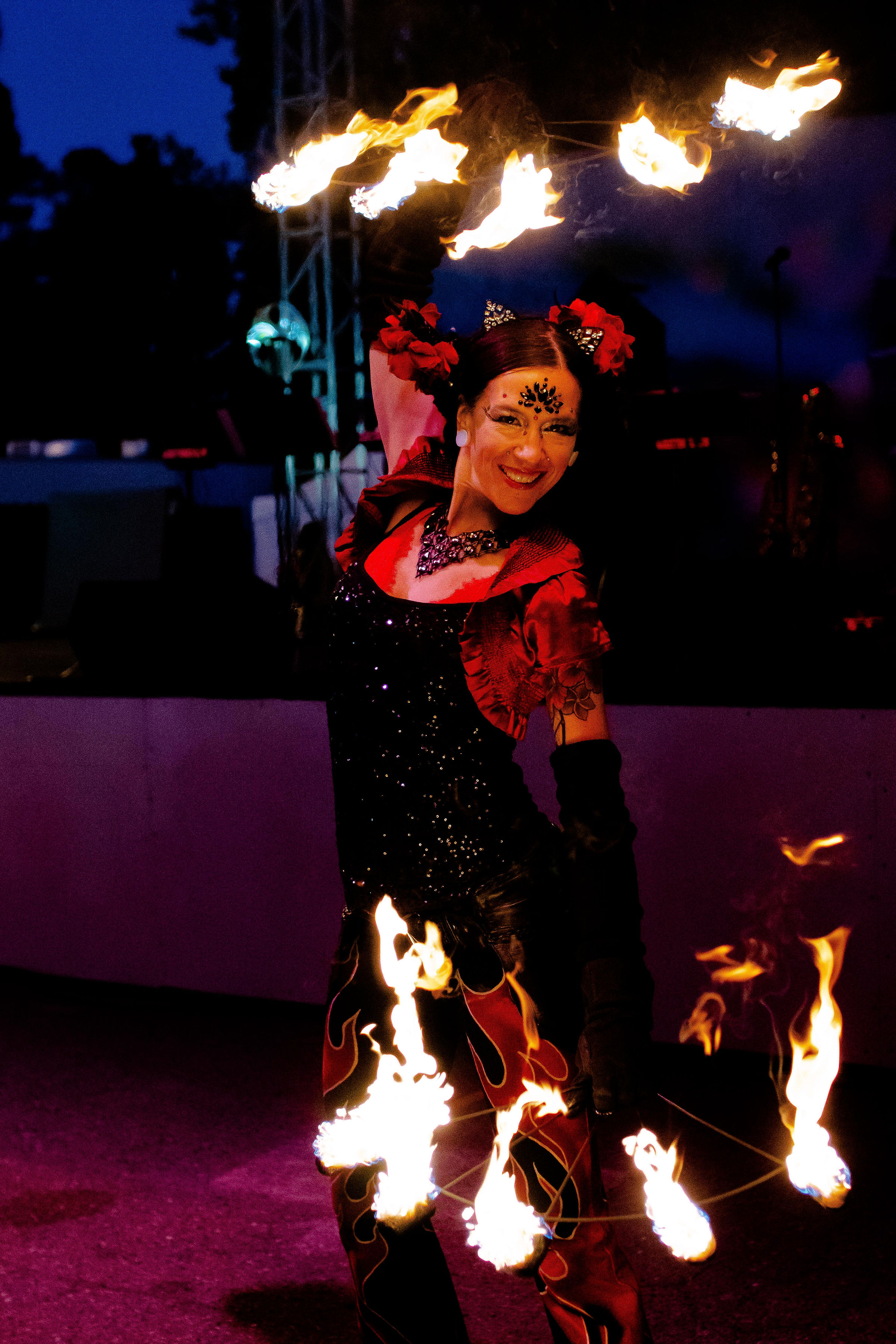 Hi, I'm Sequoia!
Adventure artist, inspiration creatrix, performer, nature priestess, life coach, spiritual guide, yogini fire queen, meditation facilitator, wild woman!

I have been dancing since I was a child and fire dancing professionally for 20 years. I am the director and founder of Sacred Fire Dance which has been performing fire shows since 2003. I have performed over 5000 fire shows, 1000 of which were in Japan and I have taught and influenced thousands of people in the fire arts world. In addition to my fire dance experience, I hold a degree in Creative Movement Therapy and Psychology and have studied collegiate dance as well as Modern Dance, Bellydance, Odissi, and African. That combined with a 25 year yoga practice, 10 years teaching yoga, and over 1000 hours in yoga teacher trainings are some of the wisdom that I will be bringing to help guide your path through this magical journey. My gift is to ignite the fire within. To help you step out of your comfort zone and live your best life.

Check your inbox to confirm your subscription